05 octobre 2015
Bonjour à tous,
Good morning everyone,
Un matin bien gris en ce premier jour de semaine.
A grey morning for this first day of the week.
Rosalie a pris place sur le tout nouveau lit de Jessy pour vous présenter son nouveau pantalon. C'est le premier que je coud, il n'est pas parfait mais je l'aime bien !
Rosalie take place on the new Jessy's bed to show you her new pants. It's the first one I sew, it's not perfect but I like it !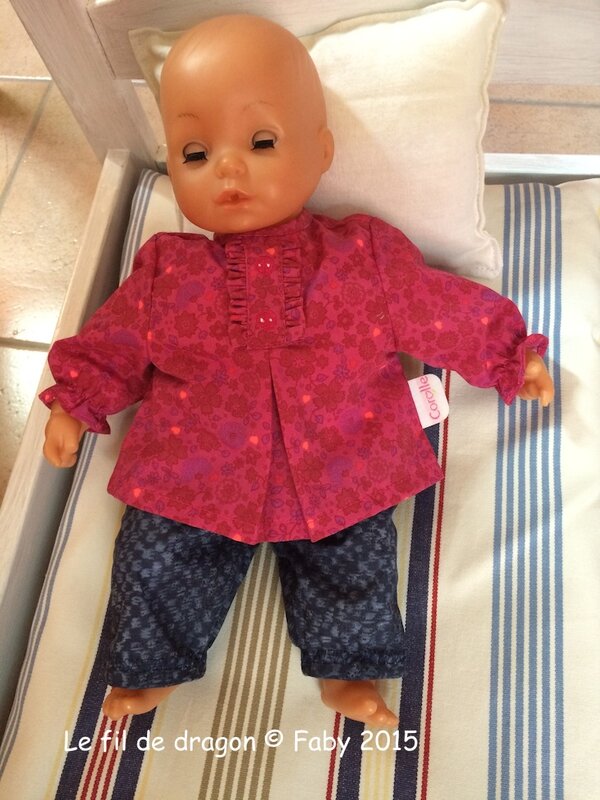 Juste à la bonne taille...
Just the right size...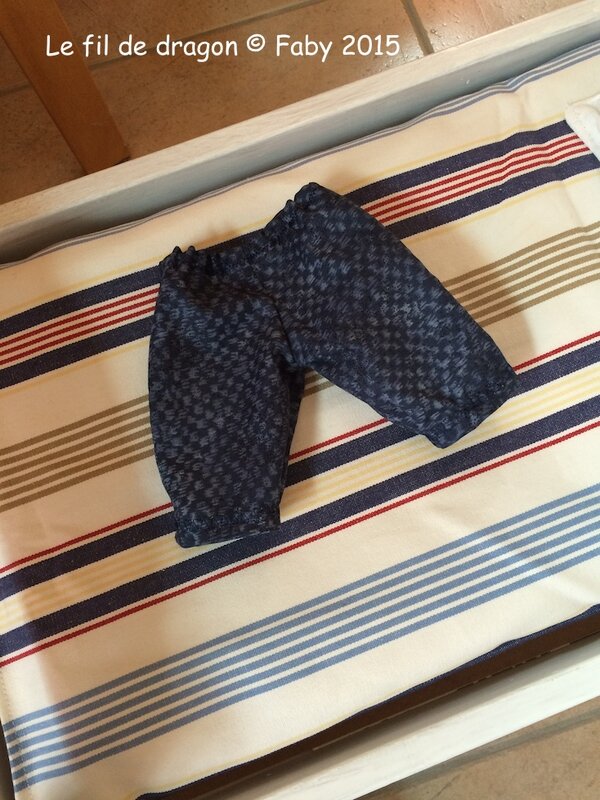 Tissu coton de mon stock.
Coton tissu of my stash.
A très bientôt !
See you soon !
28 septembre 2015
Bonjour à tous.
Good morning everyone.
Pour cette 10ème édition, pas mal de chose à vous montrer.
For this 10th edition, a lot of things to show you.
Premièrement, j'ai fait l'acquisition via un site d'enchère bien connu d'un petit lit qui vient à l'origine d'un grand magasin suédois... Il sera pour Jessy, étant donné que Lisa en a déjà un...
First, I made the acquisition on an auction site well know a little bed that comes originally from a swedish big store... It's for Jessy, Lisa have already one...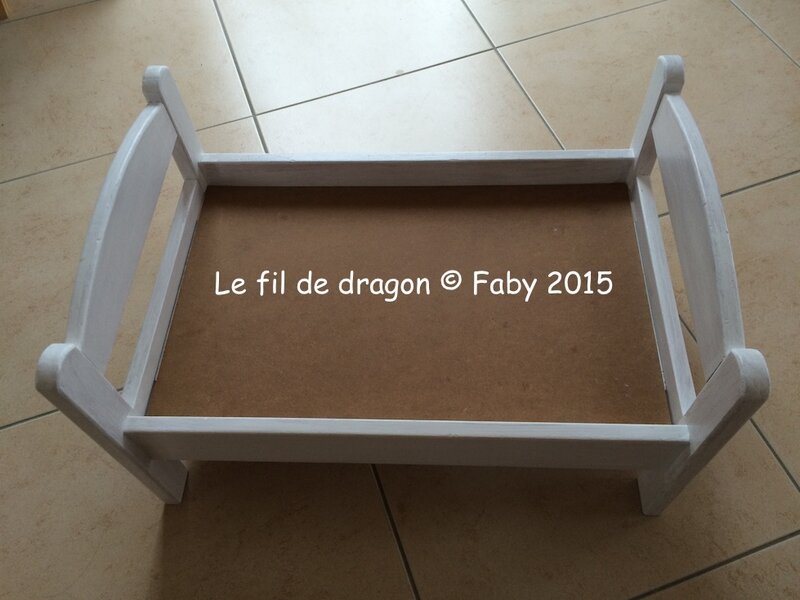 Le voici, peint en blanc... Mais sans literie... (désolée, oublier de prendre la photo avant peinture)
Here it is painted white... But without bedding... (Sorry, I forgot to to take the picture before painting)
J'ai donc fait le nécessaire !
Then I do what it was necessary !
Et ici il est bien mieux mais pas encore complet...
And here it's beter but everything is not done...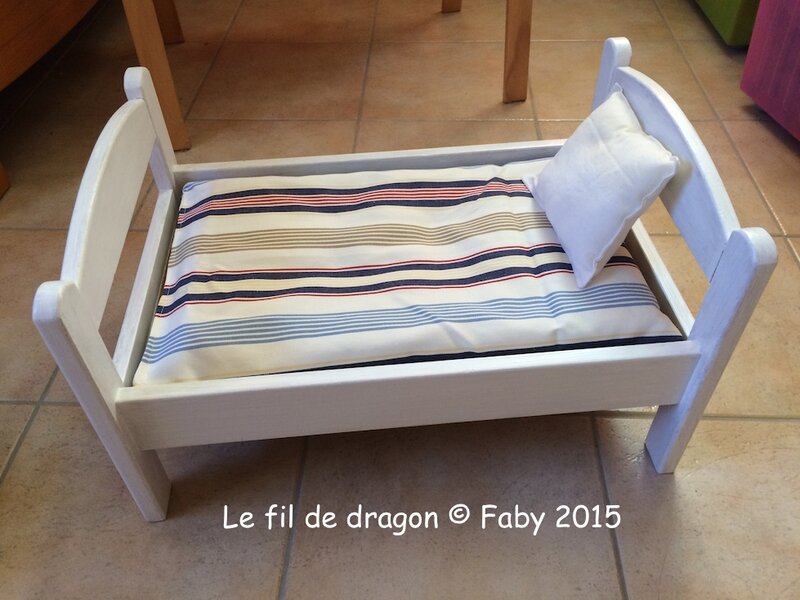 Un matelas (pas tout à fait fini, il me reste à faire quelques coutures pour que la ouatine reste bien en place) et un oreiller.
A mattress (not quite finished, a few seams to keep the fleece in place) and a pillow.
Evidement, quand Lisa a vu le nouveau lit de Jessy, elle a voulu le même, donc je vais certainement refaire tout ça une deuxième fois ;o)
En attendant, elle a déjà eu son oreiller...
And when Lisa saw the new Jessy's bed, she wanted the same, then I would certainly do all this again a second time ;o)
In the meantime, she has already received her pillow...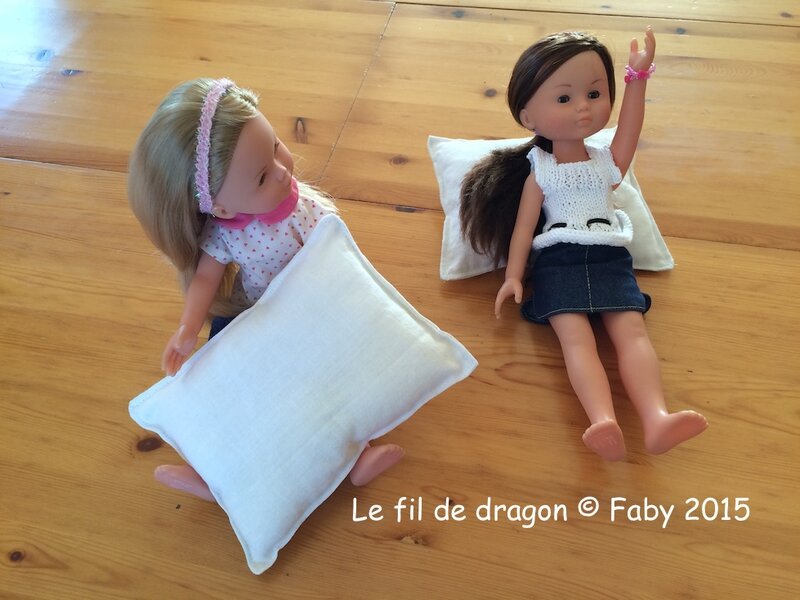 A très bientôt pour d'autres réalisations !
See you soon for others realizations !
15 septembre 2015
Bonjour à tous,
Hello everybody,
Il y a environ deux semaines, je faisais deux grannies un peu plus grand afin de faire un petit quelque chose... un petit coussin pour le nouveau lit de Jessy (que je vous présenterai une autre fois).
More than two weeks ago, I made two larger grannies to do something... it's a little cushion for the new Jessy's bed (that I will show you another time).
J'ai juste oublier de prendre la photo de la partie couture qui est à l'intérieur des deux grannies :o(
I just forget to take the picture of the sewing part who is inside of the two grannies :o(
Mais voici le résultat final:
But here is the final result: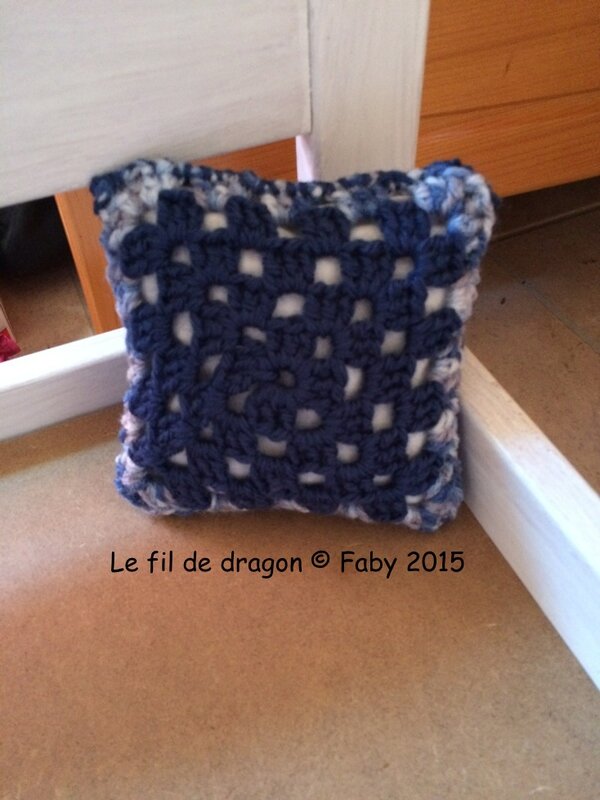 Maintenant je vais aller courir...
And I will run...
A très bientôt !
See you soon !
04 septembre 2015
Bonjour à tous,
Hello everyone,
Le week end dernier, j'ai fait un peu de couture...
The lest week end, I sew a little...
En premier, une pochette à sous-vêtement pour mon sac de sport, avec, pour la première fois, la pose de pression Kam:
First, a little pocket for my underwear for my sport bag, with, for the first time, the installation of pressure Kam:
Ensuite, plusieurs petits sachets pour ma lavande (mais je les ai pas tous finis):
After, several small bags for my lavander (but I do'nt finished all of them):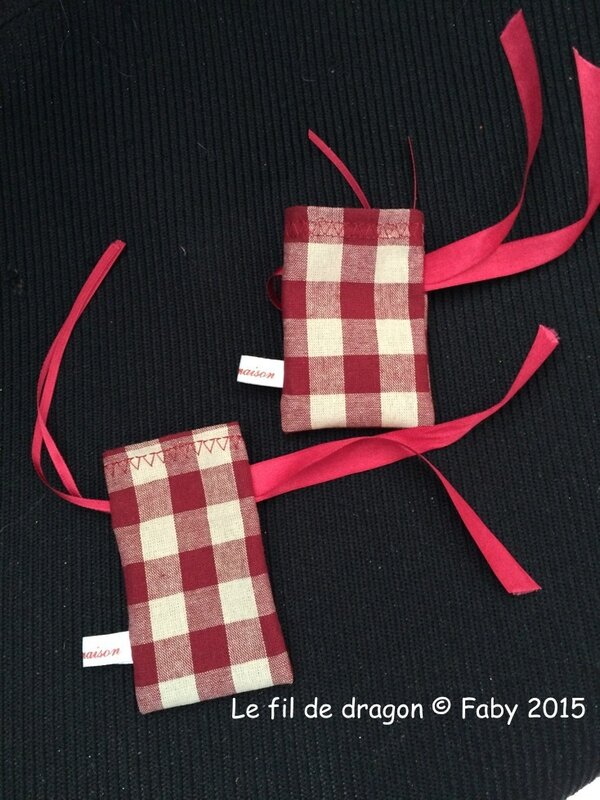 A très bientôt !
See you soon !
31 juillet 2015
Dimanche dernier, j'ai voulu reprendre mon crochet pour un nouveau projet et je me suis dit que ce serait bien de leurs faire une pochette... donc ce fut finalement un dimanche couture !
Last sunday, I want to take back my hook for a new project but I decide to do a pocket for them... then it finally was a sewing sunday !
Tissu de mon stock avec des petits carreaux pour être sure de coudre droit...
Fabric from my stock with little square to be sure to sew correctly...
Et voici le résultat:
And here is the result: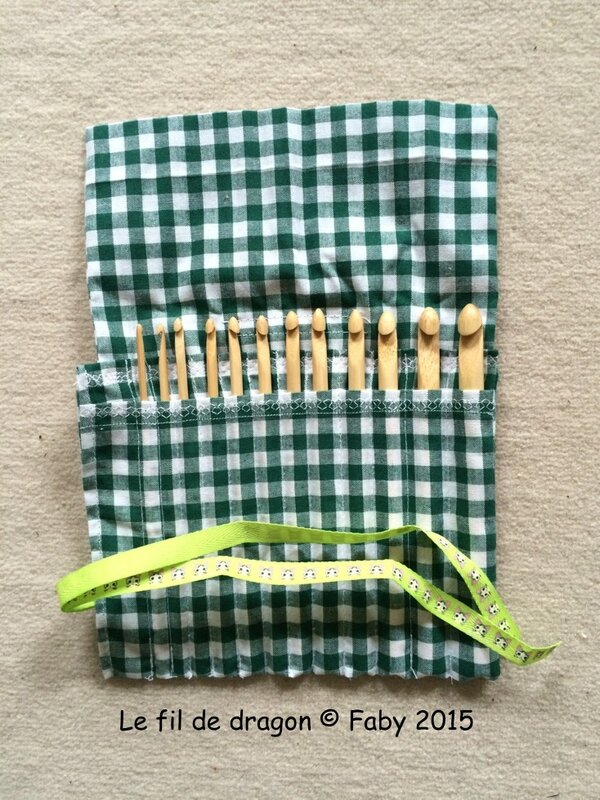 Pour une première, je m'en suis pas si mal sorti... J'en ai également profiter pour faire une petite finition... mais c'est pour un anniversaire donc il faudra un peu patienter !
For a first one, it's not so bad... I also finished another thing... but it's for a birthday gift then you have to wait a little to see it !
A très bientôt !
See you soon !
14 mai 2014
Un projet commencé l'année dernière pour la fête des mamans, et offert cette année pour la fête des mamans... Heeuuu, je n'ai donc qu'un an de retard !
A project start last year for the mother's day, and offer this year for the mother's day... well, I am only one year late !
Un joli emballage...
A nice packaging...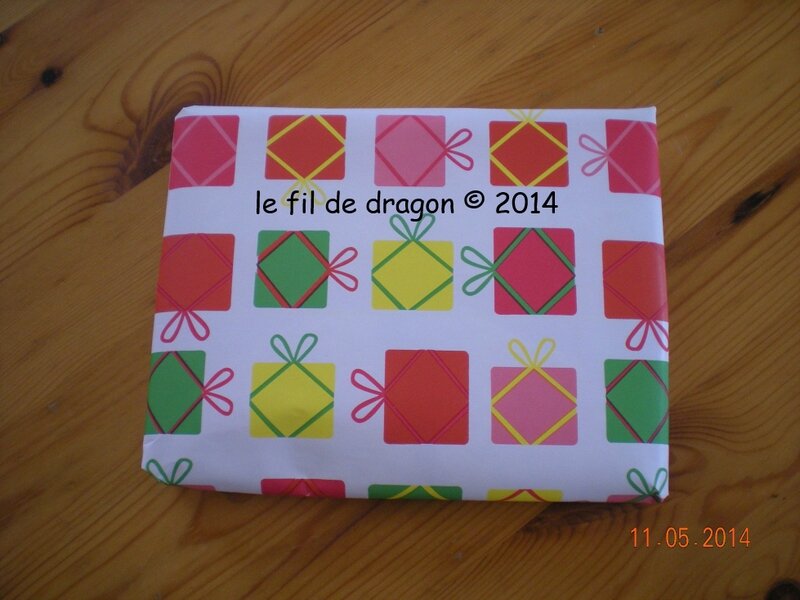 Pour une petite pochette fait main pour ma maman afin qu'elle puisse y glisser son disque dur externe !
For a little bag home made for my mom, so that she can slide in her external hard disk !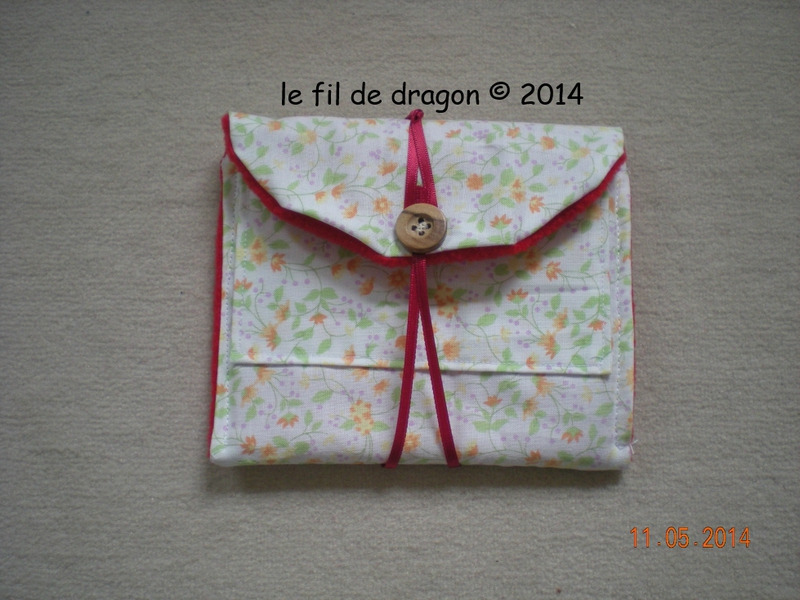 A très bientôt !
See you soon !
30 avril 2014
Hier après midi, j'ai eu envie de faire quelque chose de rapide et différent... de simple aussi... j'ai donc ressorti ma MAC et j'ai créer un petit quelque chose...
Yesterday afternoon, I wanted to make something fast and different... also simple... I thus released my MAC and I have to create a small something...
Et voilà le résultat:
And here the result: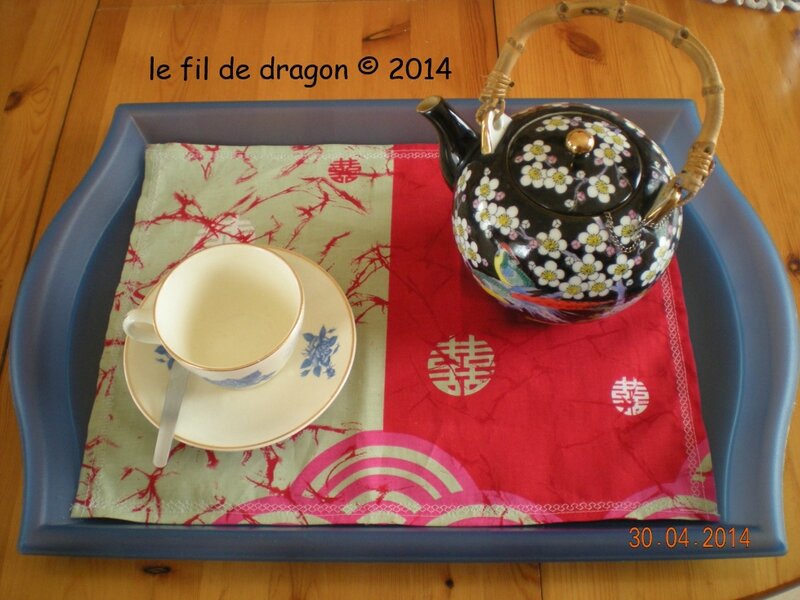 D'un peu plus près:
A little closer: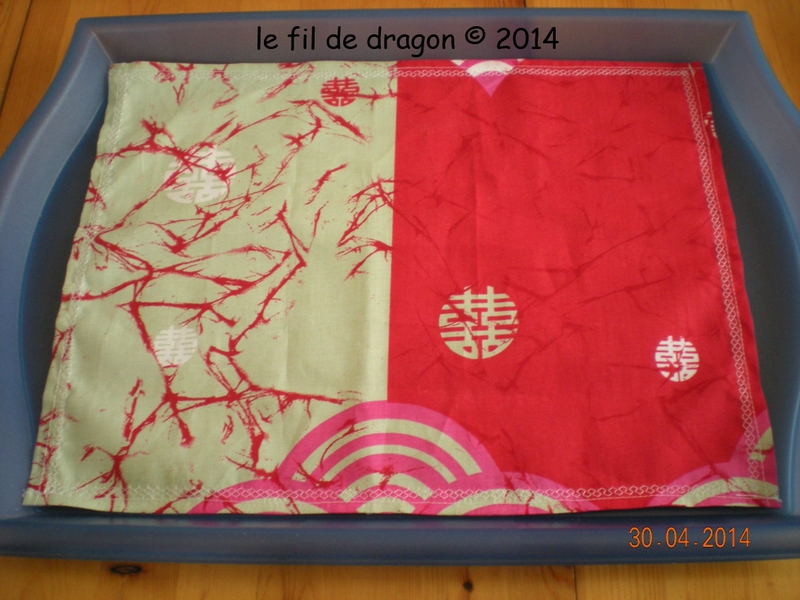 Tissu d'un grand magasin suedois, plateau également, bien que acquis beaucoup moins recement...
Tissue of a great swedish store , tray also, although acquired much less recently...
A très bientôt !
See you soon !