13 octobre 2016
Bonjour.
Afin de compléter les tenues des mes corolles et celles de ma fille,j'ai fait une petite recherche sur Ebay et j'ai trouvé quelques bonnes affaires...
D'abord, pour les chéries, Lisa et Jessy, un tapis de plage, une blouse, une petite veste et un bonnet... Et pour Nolwen, une blouse (vendue dans son emballage d'origine), un pantalon et un t-shirt blanc... Tout ça pour 20€, et en parfait état...
Les voici en photos: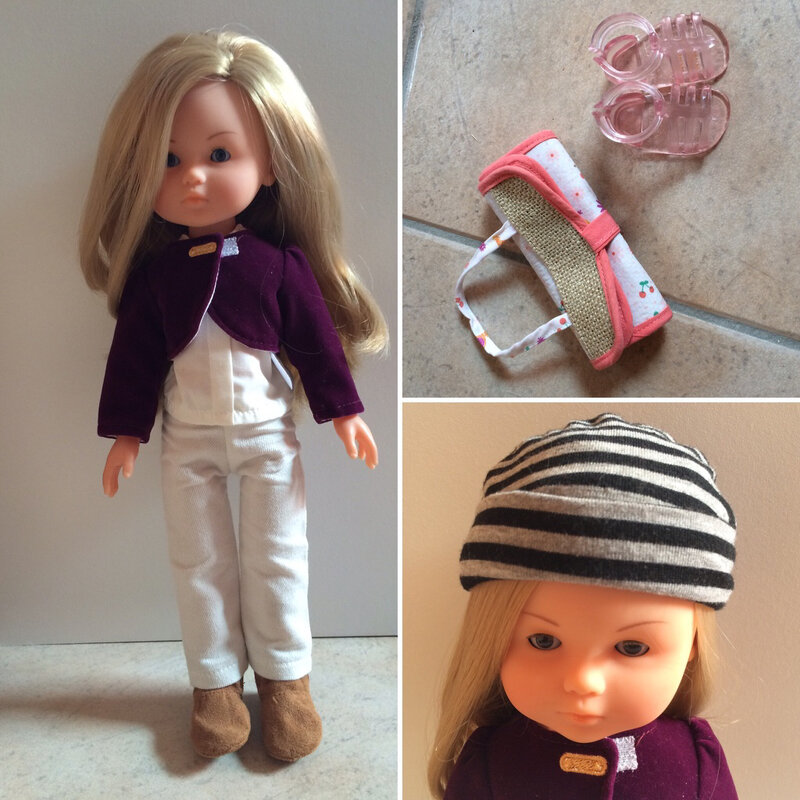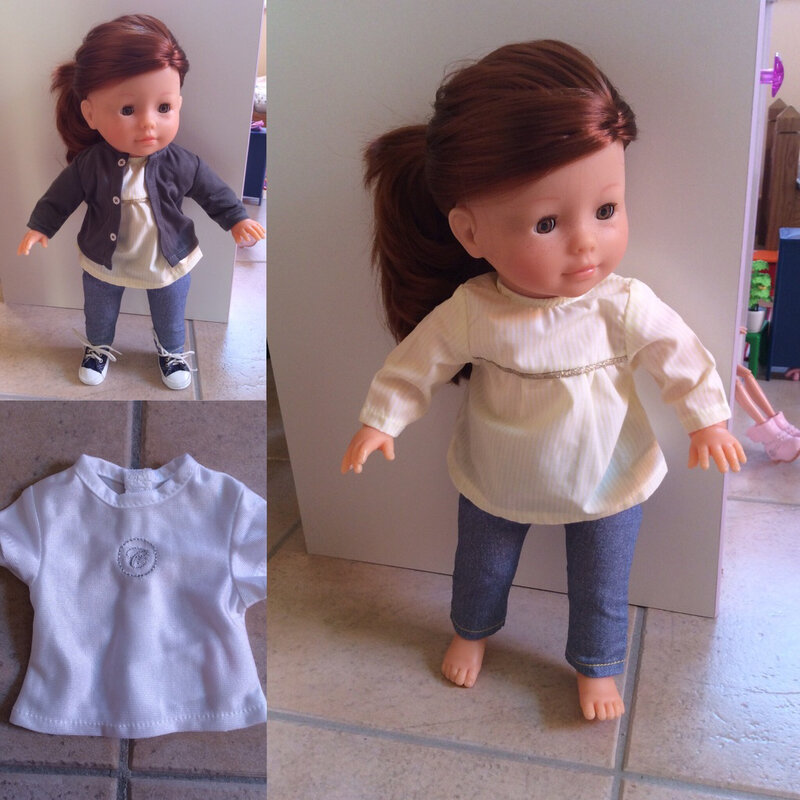 Le froid arrivant à grands pas il va leur falloir quelques pull pour les tenir au chaud... ;o)
A très bientôt !
30 octobre 2015
Bonsoir à tous,
Good evening everyone,
Maintenant que le lit est complet ou presque, je me suis occupée du pyjama. Un bien chaud pour l'hiver...
Now that the bed is ready or almost, I do the pyjama. One warm enough for the winter...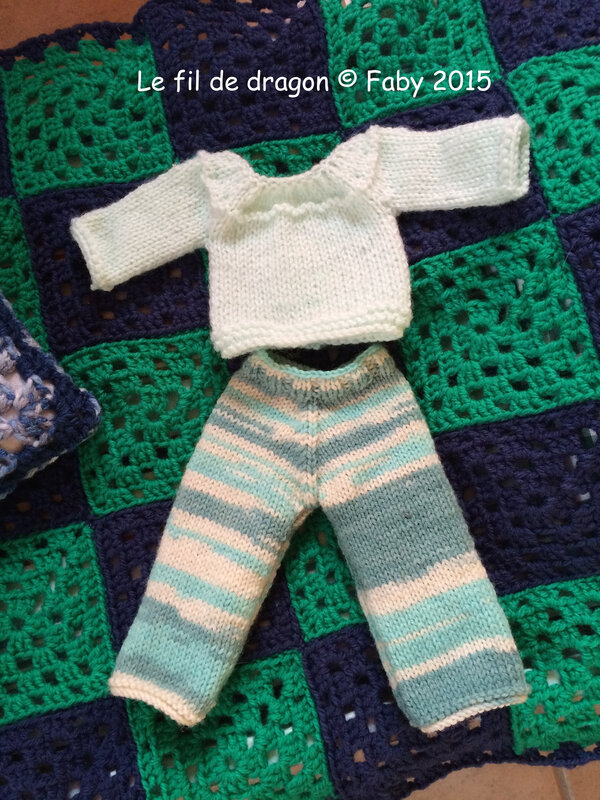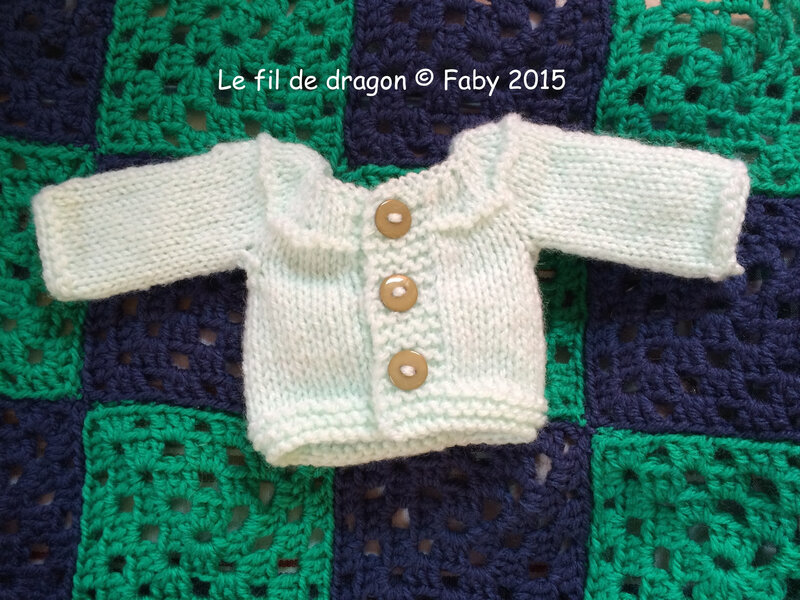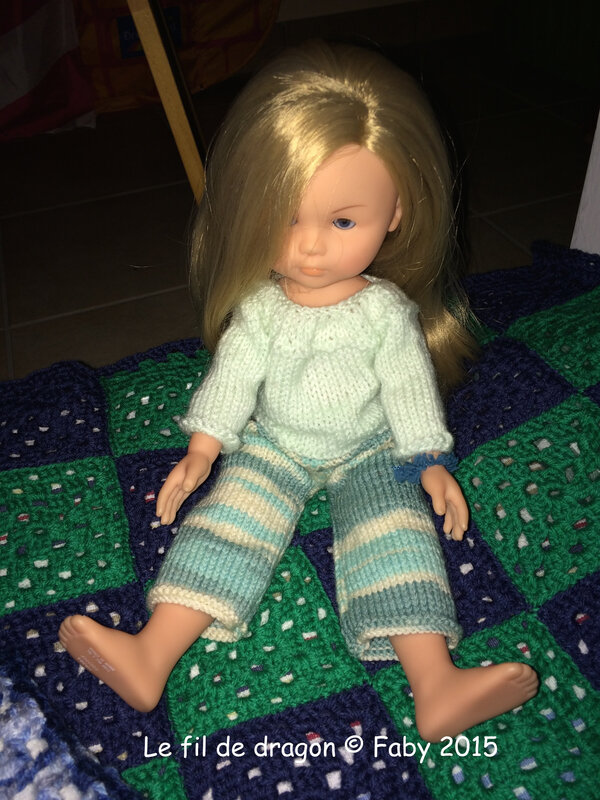 Pantalon fait à partir d'un modèle de salopette de C comme Céline et le haut à partir d'un modèle de robe trouvé sur Ravelry.
Pants made from a pattern from C comme Céline and the top is from a pattern found on Ravelry.
Maintenant je dois faire celui pour Lisa.
Now I have to made one for Lisa.
Passez un bon week end et à très bientôt !
Have a good week end and see you soon !
28 octobre 2015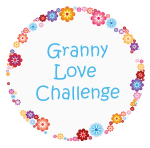 Bonjour à tous,
Good afternoon everybody.
Cette semaine, j'ai réussi à faire les 3 derniers grannies et à finir le montage...
This week, I did the last 3 grannies and finished to assembly my little blanket...
Mon petit lit a presque tous ce qu'il lui faut...
My little bed almost have all it need...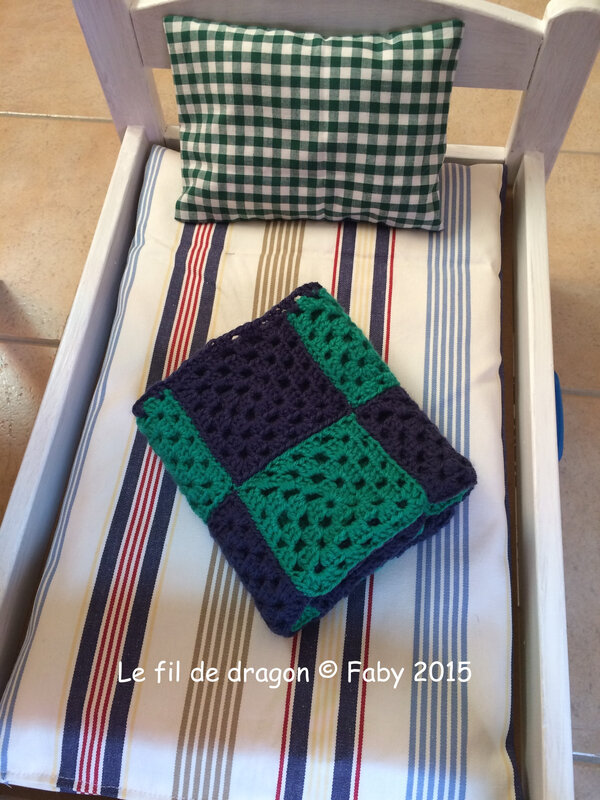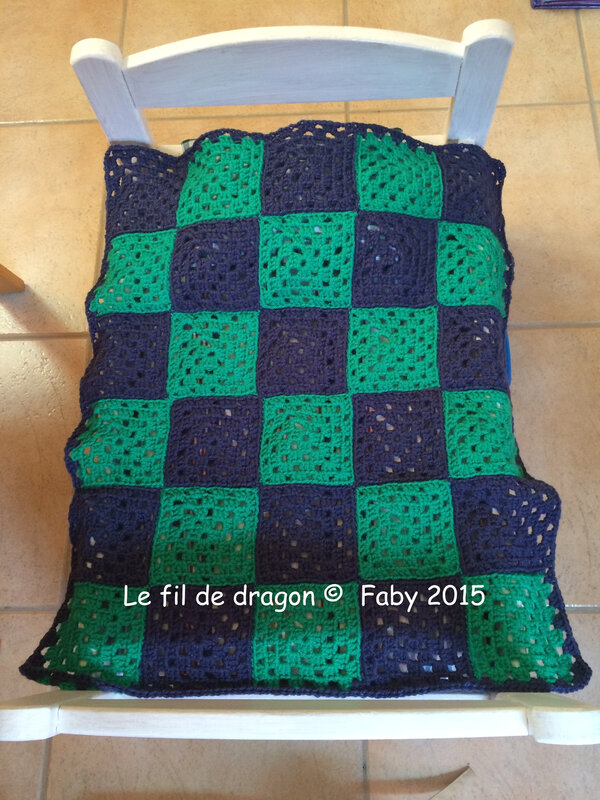 Juste la bonne taille.
Just the good size.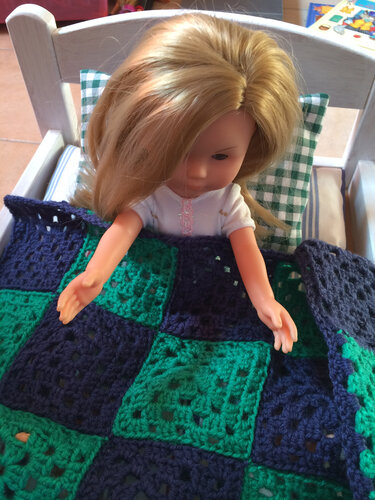 Et Jessy l'adore.
And Jessy like it.
Pour voir les autres participantes, c'est sur le site de jijihook.
To see the other participants, it's on the jijihook's website.
A très bientôt !
See you soon !
28 septembre 2015
Bonjour à tous.
Good morning everyone.
Pour cette 10ème édition, pas mal de chose à vous montrer.
For this 10th edition, a lot of things to show you.
Premièrement, j'ai fait l'acquisition via un site d'enchère bien connu d'un petit lit qui vient à l'origine d'un grand magasin suédois... Il sera pour Jessy, étant donné que Lisa en a déjà un...
First, I made the acquisition on an auction site well know a little bed that comes originally from a swedish big store... It's for Jessy, Lisa have already one...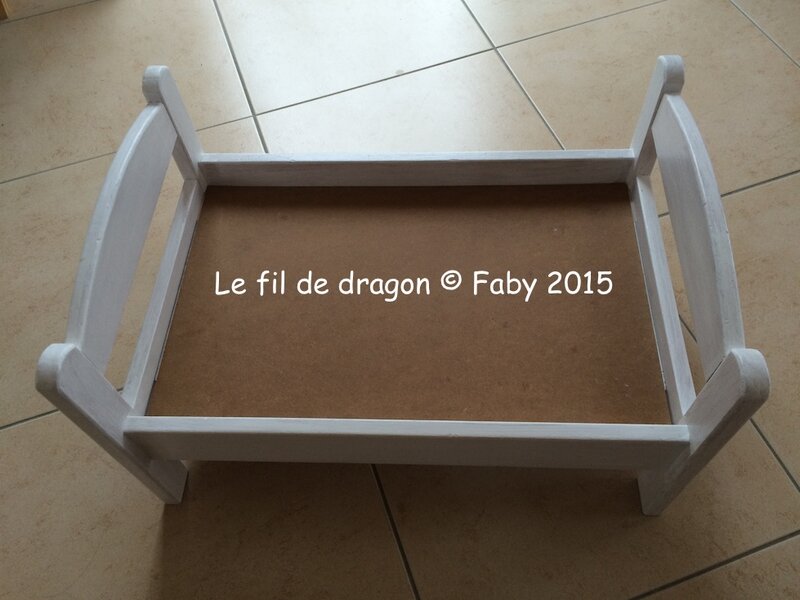 Le voici, peint en blanc... Mais sans literie... (désolée, oublier de prendre la photo avant peinture)
Here it is painted white... But without bedding... (Sorry, I forgot to to take the picture before painting)
J'ai donc fait le nécessaire !
Then I do what it was necessary !
Et ici il est bien mieux mais pas encore complet...
And here it's beter but everything is not done...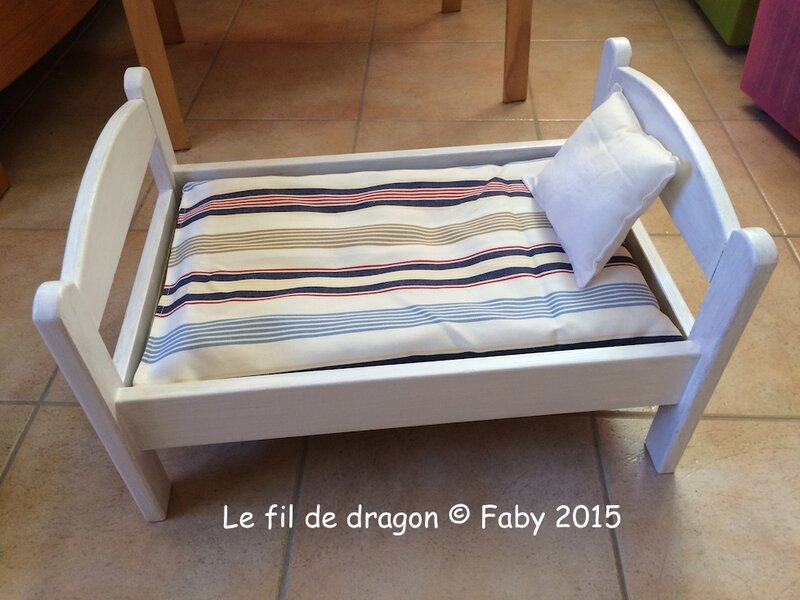 Un matelas (pas tout à fait fini, il me reste à faire quelques coutures pour que la ouatine reste bien en place) et un oreiller.
A mattress (not quite finished, a few seams to keep the fleece in place) and a pillow.
Evidement, quand Lisa a vu le nouveau lit de Jessy, elle a voulu le même, donc je vais certainement refaire tout ça une deuxième fois ;o)
En attendant, elle a déjà eu son oreiller...
And when Lisa saw the new Jessy's bed, she wanted the same, then I would certainly do all this again a second time ;o)
In the meantime, she has already received her pillow...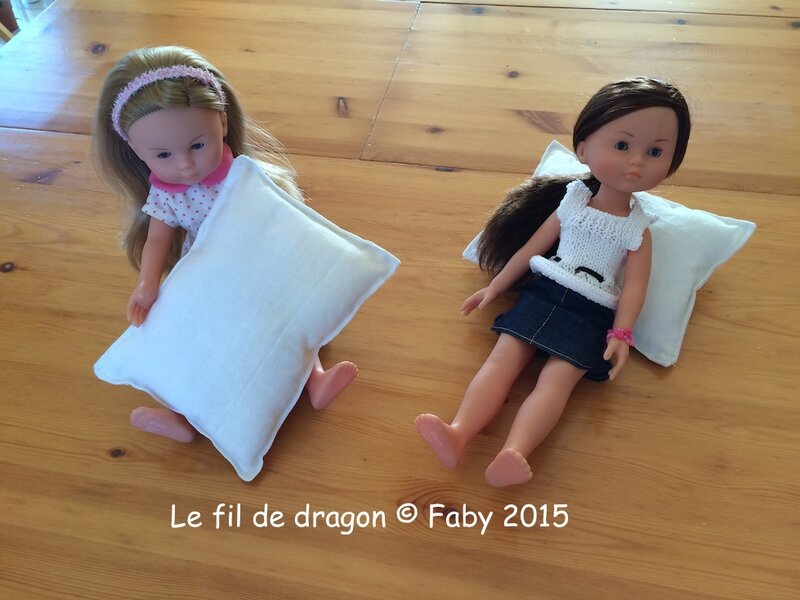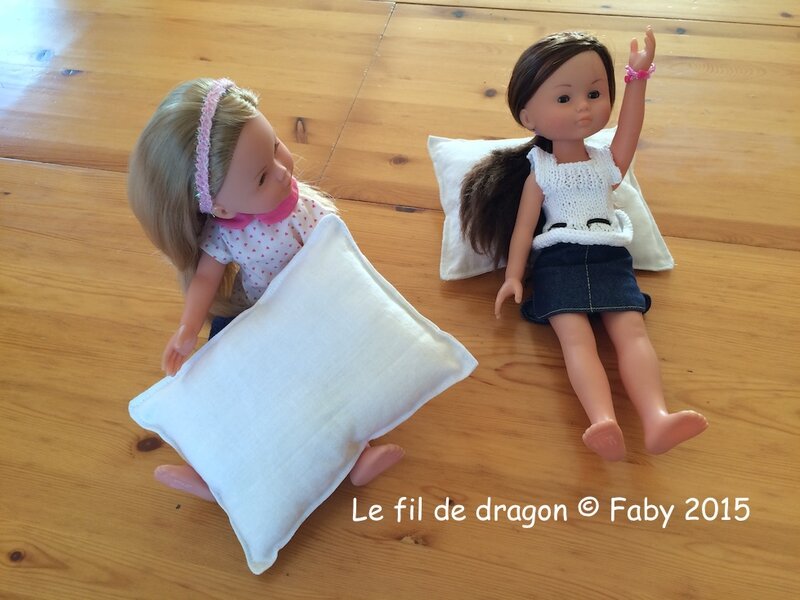 A très bientôt pour d'autres réalisations !
See you soon for others realizations !
15 septembre 2015
Bonjour à tous,
Hello everybody,
Il y a environ deux semaines, je faisais deux grannies un peu plus grand afin de faire un petit quelque chose... un petit coussin pour le nouveau lit de Jessy (que je vous présenterai une autre fois).
More than two weeks ago, I made two larger grannies to do something... it's a little cushion for the new Jessy's bed (that I will show you another time).
J'ai juste oublier de prendre la photo de la partie couture qui est à l'intérieur des deux grannies :o(
I just forget to take the picture of the sewing part who is inside of the two grannies :o(
Mais voici le résultat final:
But here is the final result: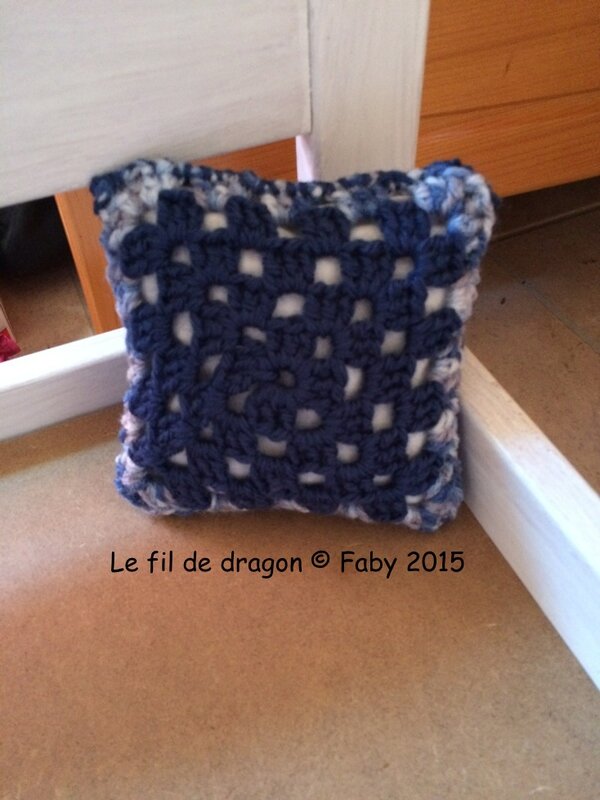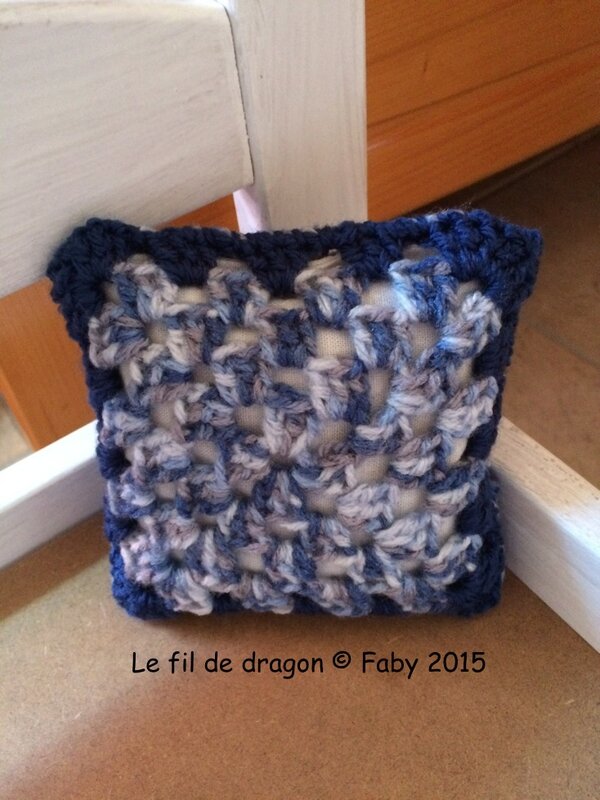 Maintenant je vais aller courir...
And I will run...
A très bientôt !
See you soon !
06 septembre 2015
Bonjour à tous !
Hello everyone !
Dans la semaine, j'ai réussi à terminer le pantacourt pour Jessy, même si maintenant il ne fait plus vraiment assez chaud pour le mettre !
In the week, I finally finished the short pants for Jessy, although now he does not really hot enough to wear it !
Seulement une photo, il fait trop froid...
Only one picture, it's too cold...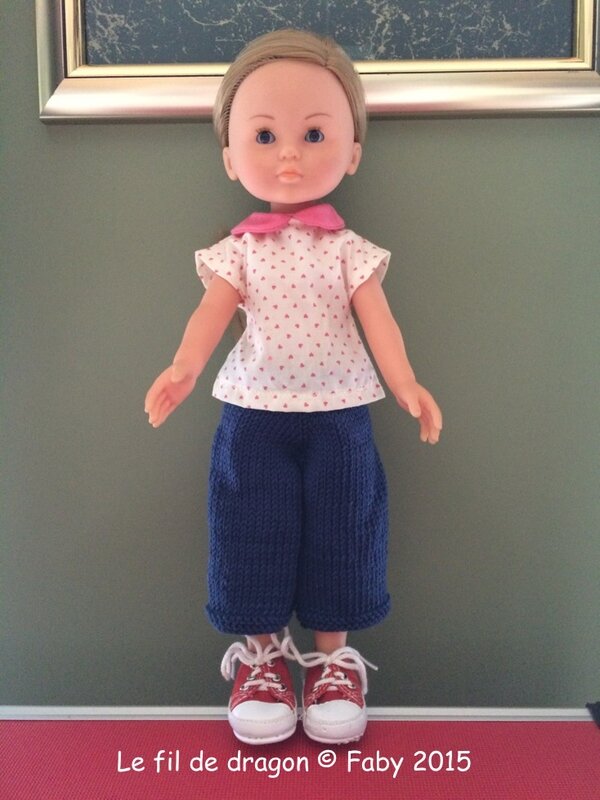 Il me reste à lui faire un gillet pour terminer les vêtement d'été et commencer les vêtements d'automne-hiver... et pyjama...
It stay to do a little gillet to finish the summer clothing and start the autumn-winter clothing... and night clothing...
Patron inspiré de la salopette des beaux jours de CcommeCéline, aiguille 2,5mm et coton Schachenmayr couleur jeans.
Pattern inspired from the "salopette des beaux jours" of CcommeCéline, needles 2,5 mm and Schachenmayr coton color jeans.
A très bientôt !
See you soon !
17 août 2015
Bonjour à tous, journée bien grise aujourd'hui mais hier il faisait beau, idéal pour faire la photo de présentation d'un petit ensemble tricoter pour Lisa et Jessy...
Hello everyone, today is a cloudy day but yesterday it was a sunny day, very good to take a picture to present you a little knitted squirt and top for Jessy...
Dans le fond, on voit mon jeune citronnier.
In the back ground, you can see my lemon tree.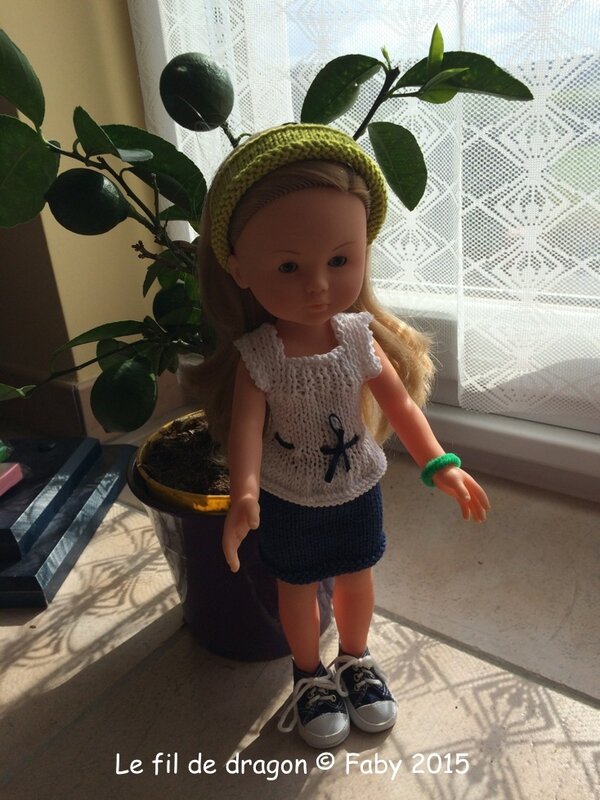 J'ai tout de même une photo de Lisa avec Jessy lorsque j'avais fini les bandeaux... il y a quelques semaines !
I have a picture of Lisa with Jessy when I finished the headbands... a few weeks ago !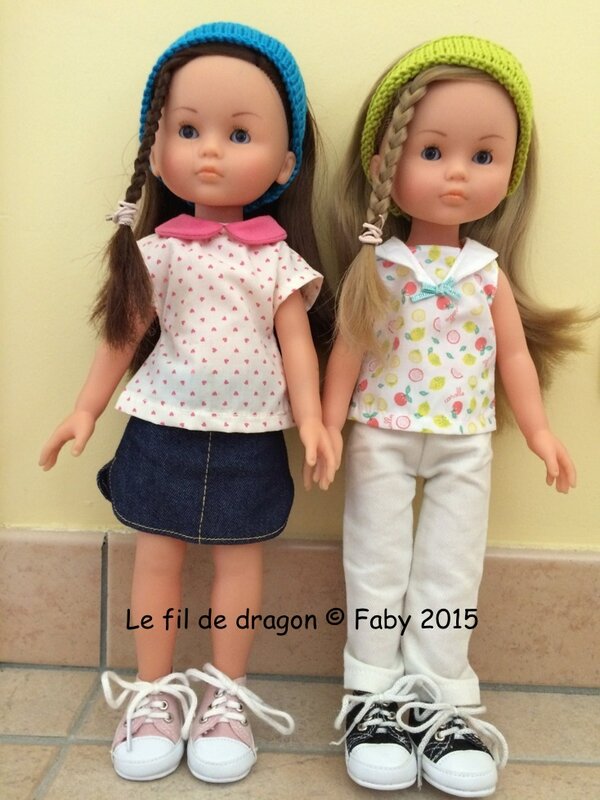 Finalement, le haut est pour Lisa et la jupe pour Jessy... Je referrai probablement un haut pour Jessy mais pas tout de suite !
Finaly, the top is for Lisa and the squirt for Jessy... I probably make a second top for Jessy but not right now !
Coton DMC et Schachenmayr et modèle trouver sur le site de Lady Pelaguy.
Baumwolle DMC et Schachenmayr and pattern found on the blog of Lady Pelaguy.
A très bientôt !
See you soon !
17 juillet 2015
Depuis un moment, en dehors des pulls pour la famille, j'ai commencer pour les poupées...
Since a moment, with the sweaters for the familly, I also begin to knit for dolls...
La première est un petit poupon de 33 cm que j'ai prénommée Rosalie, je lui ai déjà fait des chaussons, un pull, un bonnet et un gillet... et hier j'ai terminé le pantalon. Même si celà est bien chaud pour l'été, elle sera au moins prête pour l'hiver !
The first one is a baby doll of 33 cm that I named Rosalie, she already have kimono slippers, a sweater, a hat and a gillet... and yesterday I just finished the pants. It's not really for now, too hot, but she's ready for the winter !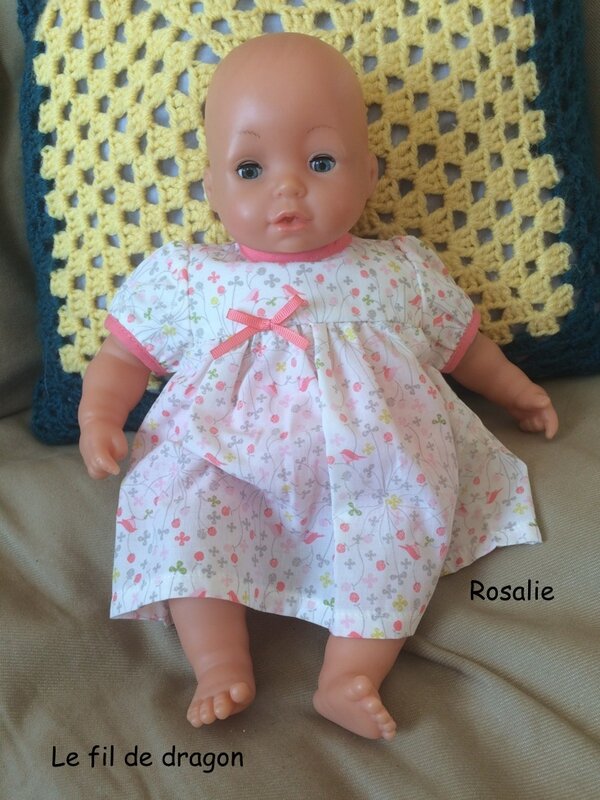 Il y a quelques semaines, c'est une Chérie de chez corolle qui nous a rejoint et que ma puce a prénommée Lisa (la brune) et quelques jours plus tard, elle fut rejointe par une amie que j'ai prénommée Jessy (la blonde).
A few weeks ago, it's a Chéries of Corolle who join us and my girl named her Lisa (brown hair), and a few days later, she was joined by a new friend that I named Jessy (blond hair).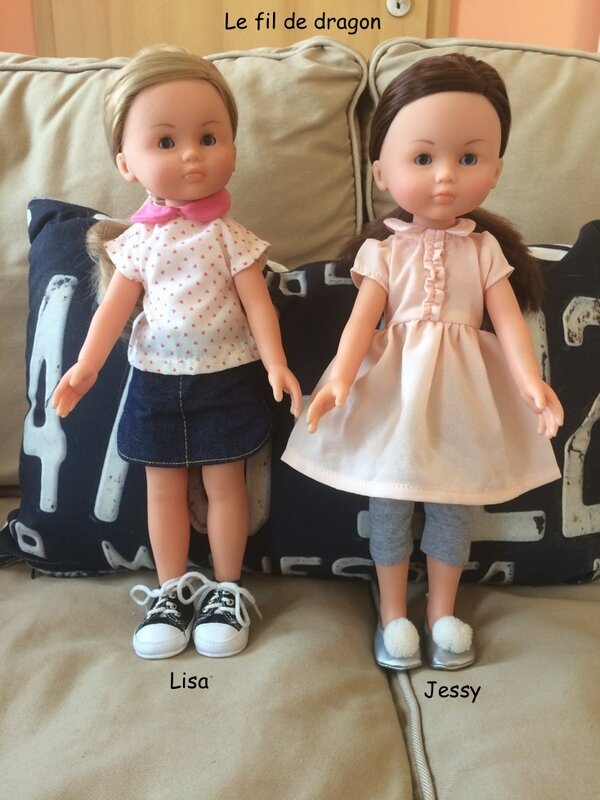 Et cette semaine, c'est encore deux nouvelles qui sont venues nous rejoindre, deux mini corollines, Sun (la blonde) et Catrin (la brune) qui attendent patiemment leur tour pour avoir de nouveaux accessoires !
And this week, it's again two new friends to join the familly, two little corollines, Sun (blond hair) and Catrin (brown hair)... they wait patiently for their own accessories !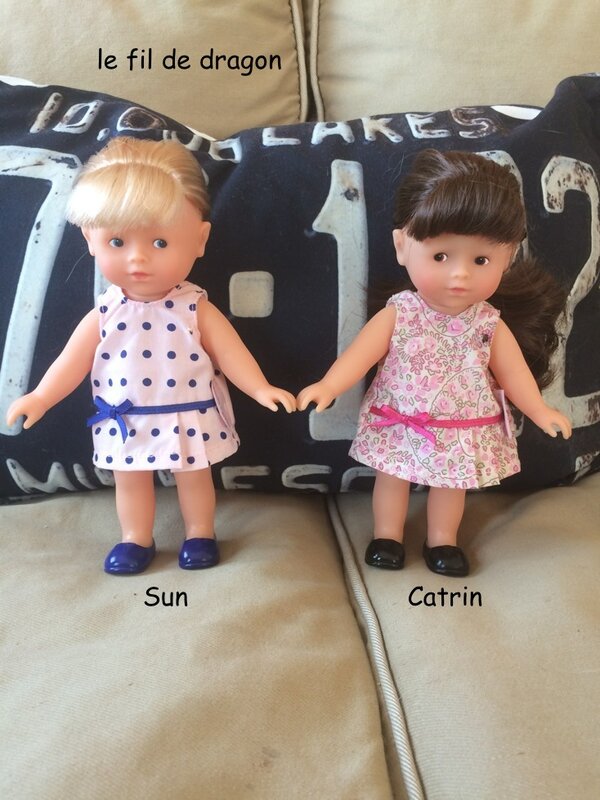 Voilà, je vous les ai toutes présentée, sacrée petite famille... Vous les reverrez de temps en temps avec de nouvelles tenues...
Well, I all have presented to you, great little family... You will see them time to time with new outfits...
En attendant, je vous souhaites une belle journée ensoleillée !
In the meantime, I wish you an happy sunny day !